ISLAMABAD: An Islamabad district and sessions court on Wednesday accepted PTI leader Fawad Chaudhry's bail petition on the condition that he would not repeat any such words that can incite violence against a constitutional institution.
Chaudhry was taken into custody on Jan 25 for allegedly "inciting violence against a constitutional institution" the Election Commission of Pakistan (ECP).
A first information report (FIR) against him was registered at Islamabad's Kohsar police station on a complaint from ECP Secretary Umar Hameed.
Additional Sessions Judge Faizan Haider Gillani granted bail to the PTI leader today against Rs20,000 worth of surety bonds.
Fawad's legal counsels Faisal Chaudhry, Babar Awan and Ali Bukhari were present in the court while Saad Hassan presented arguments as the ECP's representative.
After the investigation officer presented the case's record, the judge accepted the bail plea and said, "Parliamentarians should not give such statements. Fawad Chaudhry should not have given such a statement.
"I am granting the bail on the condition that Fawad Chaudhry does not repeat such remarks," the judge said.
Later, the PTI leader was released from Adiala jail. Speaking outside the jail, Chaudhry thanked his supporters, bar councils and party leadership for their solidarity with him.
He also specifically thanked politicians from other parties such as Shahid Khaqan Abbasi, Mustafa Nawaz Khokhar and Hanif Abbasi for condemning his treatment and supporting him.
Regarding Monday's Peshawar blast, he said the PTI had persistently highlighted deteriorating relations with Afghanistan and rising terrorism in the country but the government did not pay any heed.
"All [their] attention is at one point, on somehow subtracting Imran Khan [from politics]."
He also said that no one wanted to clash with institutions and it was necessary for them and the nation to remain on the "same page" so the country could move forward.
At the outset of the hearing, Awan argued that merely telling someone that one would take action against them did not equate a threat, adding that the relevant article of the Constitution related to rebellion was "being given a political angle".
"Fawad Chaudhry is being named in a false case", he said.
At this, the judge asked Awan to read out the allegation against Fawad. "What does Fawad Chaudhry mean by saying 'to accompany them to their homes?'" the judge inquired.
Fawad's counsel replied that in the past a female politician had been branded "tractor and trolley". He was possibly referring to remarks made against PTI leader Shireen Mazari by PML-N's Khawaja Asif in 2016.
The judge responded, "What does it mean to talk about the families? You are aware of Pakistan's literacy rate and what it means for a politician to say such things?"
Judge Gillani highlighted that even previously, "a colleague of ours was talked about [in this manner]" as he asked the purpose of "going to this extent".
Meanwhile, the prosecutor remarked, "Freedom of speech does not mean to vilify a personality. An ECP employee was termed a clerk."
To this, the judge replied, "Did any lawyer object to the label of being a clerk? Why is the term 'clerk' being considered derogatory?"
The prosecutor responded, "The word 'clerk' was used to target the ECP employee. The police have collected documentary evidence."
"[But] Fawad Chaudhry is not denying his statement," the judge said.
At one point, the prosecutor recalled that Fawad had said in a TV programme that "rebellion was mandatory in this country". To this, the ECP lawyer added that "inciting people at a time when there is no stability in the country was not appropriate".
The ECP counsel said that not only was Fawad targeting the electoral body but also the "Pakistan Army and some politicians".
When it was Awan's turn to present his argument, he said, "It is there in front of you what the prosecution did with Azam Swati. The prosecution is now finding a new complainant so that a new institution is offended."
You May Also Like
WASHINGTON: At least 23 people were killed as a devastating tornado ripped across the southern US state of Mississippi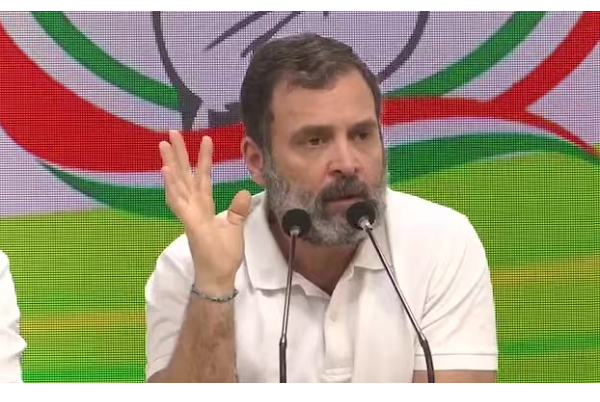 NEW DELHI: Top Indian opposition figure Rahul Gandhi said Saturday he would keep fighting for democracy
WASHINGTON: Nadia Kahf made history when she took oath in New Jersey this week as the first judge