LAHORE: Punjab Chief Minister Parvez Elahi said he would dissolve the provincial assembly "in a wink of an eye" if former premier Imran Khan formally asked for it.
"The Punjab government is [formed on] Imran Khan's trust and I will dissolve the Punjab Assembly in less than a minute on his call," Mr Elahi said in a video message while responding to the announcement of the PTI chief.
On Saturday, Imran Khan, while addressing the end of 'Haqeeqi Azadi March' in Rawalpindi, said his party would disassociate itself from the "corrupt system" in vogue and resign from assemblies in Punjab and KP.
Since Mr Khan in his Rawalpindi speech stated that he had consulted PTI governments' chief ministers on the matter, PML-Q senior leader Moonis Elahi had immediately come on record saying the CM was committed to the promises made to the former prime minister and would dissolve Punjab Assembly on the formal nod from the PTI chairman.
The younger Elahi, who is directly coordinating with Imran Khan since the coalition government was formed, had also acknowledged in his tweet that Parvez Elahi was elected as chief minister on July 27 and since then their government was running on "bonus time".
Moonis said, "If Punjab Assembly is dissolved they [PDM] will need to call elections, which PDM cannot afford".
Brushing aside statements by PML-N leaders, mainly Interior Minister Rana Sanaullah, CM Parvez Elahi said Imran Khan had played a "decisive round" and the PDM government would disintegrate when resignations are tendered from the KP and Punjab assemblies.
"The PML-N leaders will now know what is going to happen to them," CM Elahi warned and said that "PM Shehbaz Sharif's 27 kilometres government [in Islamabad] will not be able to function for even 27 hours [in case of PTI's resignations from legislative assemblies].
On the other hand, PTI chief Imran Khan arrived back at his Zaman Park residence and began consultations with regard to the particular agenda items and plans to call the parl
iamentary parties meeting — to materialise his announcement in the Rawalpindi showdown.
Sources in the PTI said that Imran Khan would be calling the parliamentary party meeting on Monday (today). However, another party leader wishing to stay anonymous said no parliamentary party meeting message had been relayed yet.
Sources also said the party chief did consult the party leaders on the parliamentary party meeting agenda and hastened to add that arrest of Senator Azam Swati remained top on the discussion agenda and Imran Khan expressed his shock over the arrest of the senator. He said, as he earlier tweeted, "I am shocked and appalled at how rapidly we are descending into not just a banana republic but a fascist state". Expressing his disappointment, Mr Khan asked how could anyone not understand the pain and suffering Senator Swati underwent as a result of custodial torture. He added that an obscene video of him and his wife was also sent to the senator's family.
Meanwhile, PTI senior leader Fawad Chaudhry said in case of PTI legislators' resignations in the National as well as Sindh and Balochistan assemblies besides the dissolution of PTI-led Punjab and KP assemblies, the nation would eventually go for the next general elections.
You May Also Like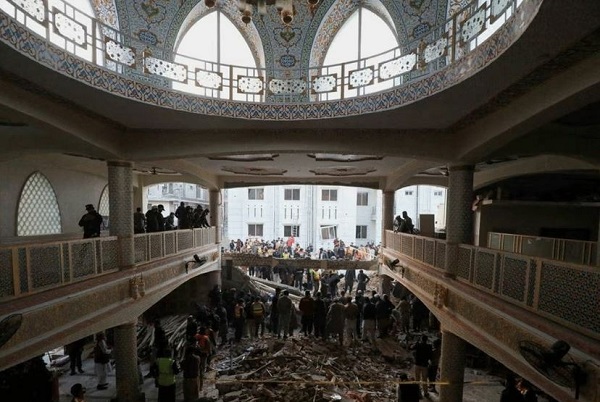 ISLAMABAD: Suicide attack on a mosque in Peshawar sent shockwaves through out the world,
LAHORE: Justice Jawad Hassan of the Lahore High Court (LHC) said Monday elections must
ISLAMABAD: An Islamabad sessions court stated on Tuesday that charges against PTI