KARACHI: Air Vice Marshal Abbas Ghuman, Air Officer Commanding Southern Air Command laid floral wreath at the grave of rPilot Officer Rashid Minhas Nishan-i-Haide in Karachi this morning on the occasion of Martyrs Day of Pakistan Air Force and offered Fateha for the Shaheed.
A smartly turned contingent of Pakistan Air Force saluted on this occasion.
Air Officer Commanding Southern Air Command Abbas Ghuman on this occasion said 7th of September reminds us sacrifices of martyrs and Ghazis.

Rashid Minhas, only 20, was decorated with Nishan-e-Haider for not letting his defector instructor, Flt Lt Matiur Rahman, fly to India with state secrets and an in-service air force official.

He said Pakistan Air Force gave a befitting response to enemy on February 27 last year.
You May Also Like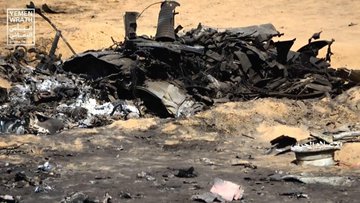 According to Saudi state television, the coalition intercepts majority of drone assaults.
The three Foreign Ministers will discuss the latest developments
Under the programme, soft loans will be provided to the fishermen