KARACHI: The Sindh government on Thursday announced that citizens will not be allowed to offer congregational prayers — including Friday prayers — in mosques. The decision came only hours after the federal government said that mosques would remain open and congregational prayers would be offered in "limited numbers".
Spokesperson for the Sindh government Barrister Murtaza Wahab announced the provincial government's decision on Twitter and added that the decision was taken after consultations with Ulema and medical experts.
As per the Sindh government spokesperson, five people including mosque staff will be permitted to offer congregational prayers. The decision will be in effect from March 27 (tomorrow) till April 5.
According to the notification issued by the Sindh government's home department, the provincial government took the decision on the basis of instructions from medical experts. Only three to five people designated for mosques will be permitted to offer congregational prayers. The notification added that the general public will offer prayers at home as per the guidance of religious scholars.
These restrictions will also apply to religious sites for other religions, the notification stated.
It stated that the provincial had exercised Section 3(1) of the Sindh Epidemic Diseases Act, 2014. Under the Act, the commissioners and deputy commissioners are empowered to issue further directions/orders/notices etc to put the order into effect, the notification stated. Anyone who opposes the decisionwill be punishable under Section 188 (disobedience to order duly promulgated by public servant) of the Pakistan Penal Code.
Speaking on Geo News programme Aaj Shahzeb Khanzada Kay Sath, Sindh Minister for Information and Local Government Syed Nasir Hussain Shah said that the decision was a very difficult one and added that there would be difficulties in implementing it. He requested citizens to follow the decision.
Earlier, addressing a press conference alongside other government officials, Federal Minister for Religious Affairs and Interfaith Harmony Noorul Haq Qadri said that the National Coordination Committee on Covid-19 had decided that mosques in the country would not be closed. Qadri said that mosques will have azaan (call to prayers) and tilawat. With regard to offering congregational prayers at mosques, Qadri said that this will be "limited".
He said that mosque imams, staff, regular attendees in limited numbers — those who are healthy and not older than 50 years of age — will be able to offer prayers in the mosque in limited numbers.
Religious scholars assured that they would "comply with the instructions" issued by the government in order to curb the coronavirus pandemic during a meeting with President Arif Alvi Thursday.
Following the meeting, the president said that during the meeting it was decided that mosques should not be shut down but the government in the crisis situation, could ask the number of people joining the congregations to the limited, "even to a handful".
"A consensus like this is far better than unilateral action," he said in a tweet. According to a statement released by the President's office after the meeting, the Ulema also promised to extend their "complete support" to the government in its efforts to contain the spread of the novel coronavirus.
President Alvi had held a meeting with the scholars to discuss if religious congregations, including Friday prayers, should be suspended during the coronavirus outbreak. The statement, however, made no mention of the matter.
"The president highlighted the preventive measures which needed to be taken by the people to stop spreading the disease," the statement read. "He emphasised that the only solution to the present crisis was to maintain social distancing and act upon the guidelines provided by Islam to cope with such situation.
"The Ulema assured their complete support and said that they would comply with the instructions given by the government." President Alvi chaired the meeting at President House. and scholars from all four provinces, Gilgit Baltistan (GB) and Azad Jammu and Kashmir (AJK) attended the meeting through video link from governor houses across the country. Those from Islamabad and Rawalpindi were physically present.
The president was supposed to apprise the scholars about the fatwa issued by Egypt's Al-Azhar University, permitting suspension of Friday prayers to control the spread of the novel coronavirus across Pakistan.
He was expected to announce important decisions regarding these matters. Federal Minister for Religious Affairs and Interfaith Harmony Noorul Haq Qadri and Chairman of The Council of Islamic Ideology Dr Qibla Ayaz were advising the president on the matter.
Authorities have held multiple consultations with scholars over whether prayer congregations should continue, as social distancing is vital to curb the spread of the novel coronavirus, which has already infected more than 1,000 people in the country. A large number of people are expected to gather in mosques tomorrow to attend Friday's congregational prayers.
Meanwhile, clerics and Ulema of Pakistan Ulema Council (PUC) and Darul Afta Pakistan have appealed to public to stay inside homes and say prayers and Azkar as they limited the congregational prayers which would be offered by three to five people.Ulema and Mashaikh of PUC and Darul Afta Pakistan have appealed to public to ensure implementation on directives of the government for preventive measures against coronavirus.
The clerics also appealed to elderly people, senior citizens and children not to visit mosques for prayers adding that elderly people and children could be the possible victims of coronavirus pandemic.
In a joint statement, leadership of PUC and Darul Afta Pakistan and leading religious scholars from all over Pakistan including Pir Naqeebur Rehman, Allama Ziaullah Shah Bukhari, Maulana Nauman Hashir, Qazi Matiullah Saeedi, Maulana Abdul Karim Nadeem, Allama Syed Sajjad Naqvi, Mufti Muhammad Umar Farooq, Maulana Abubakar Sabri, Maulana Mufti Hafuzur Rehman, Allama Tahirul Hasssan, Qari Asmatullah Muhavia, Maulana Aseedur Rehman and Maulana Ammar Baloch appealed to elderly people and senior citizens to say Jummah prayers at home and also appealed to public to say Sunnah prayers and Azkar at homes.
The clerics stated that rising numbers of victims of coronavirus pandemic in the country is very alarming and people should ensure preventive measures to stay safe against this pandemic.
The people should ensure implementation on prevailing lockdown and self-isolation parameters to stay safe against coronavirus adding that believers going for Jummah prayers should use sanitiser in the mosques and keep mask on their faces.
Ulema also appealed to administrators of mosques to lift mats from prayer halls and say Jumma prayers on floors by washing them with detergents. Ulema also urged people to assist the downtrodden in their respective localities. Darul Afta Pakistan also appealed to Ulema to shorten the Friday sermon by avoiding Urdu speech.
Darul Afta Pakistan also appealed to public to use soaps and sanitiser while coming to mosques and after leaving the mosque adding that believers should make Wudu at their homes and visit the mosque for Farz prayers.
The clerics also urged the public to behave like responsible citizens and play their respective role to contain outbreak of coronavirus pandemic. Amidst this challenging time, everyone in their neighborhood should assist the poor and the needy.
Meanwhile, Minister for Planning, Development and Special Initiatives Asad Umar said that National Coordination Committee (NCC) on COVID-19 reviewed situation in detail and decided to extend closure of all educational institutions till May 31, 2020.
He said that the Education Minister Shafqat Mehmood in consultation with the provinces took decision to extend closure of all educational institutions from April to May 31, 2020 so all school, colleges and universities will remain closed during upcoming Ramadan as well.
Addressing a joint news conference along with other ministers and NDMA chairman, Asad Umar said that there was no shortage of wheat in the country as the country possessed wheat stocks of 1.7 million tons and the new wheat crop was at harvesting stage. It has been decided that releases of wheat would be streamlined to the provinces where there was not sufficient availability of wheat. "There is no shortage of essential food items including wheat," he made it clear. He said that the political leadership irrespective of political divide today demonstrated that all provinces despite ruling over by different political parties were united to give comprehensive and full spectrum response on COVID-19. He said that all provinces including GB and AJK decided that they would devise joint strategy to pass on certain benefits, which the federal government announced for providing benefits to common man in the aftermath of eruption of this virus.
He said that the fiscal stimulus package of Rs1.25 trillion announced by the government would be implemented fully in close collaboration with the provinces. The coordination mechanism, he said, devised along with the provinces to provide benefits to common and vulnerable segments of the society at gross roots levels.
He said that Prime Minister Imran Khan would unveil Special Programme for Volunteers and Overseas Pakistanis tomorrow or day after tomorrow so that they could contribute to combating this pandemic effectively. He said that it was also decided that the provinces' representatives would also sit in National Command Centre in order to ensure effective response from all tiers of government.
You May Also Like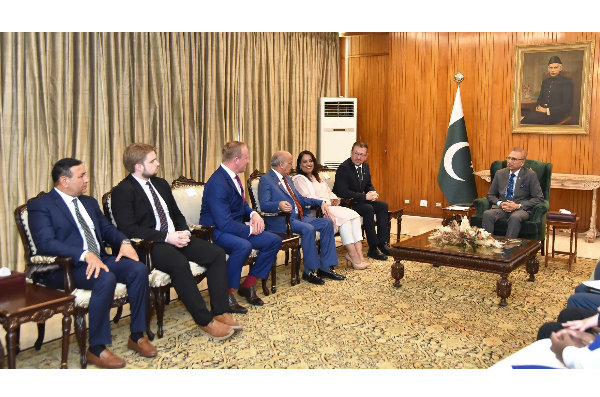 ISLAMABAD: President Dr Arif Alvi has said that India is involved in the genocide of Muslims, persecution and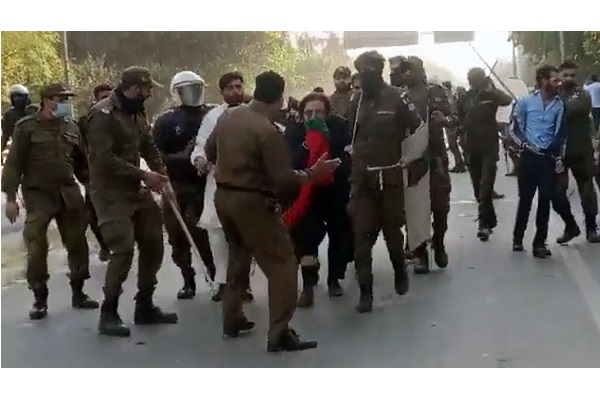 LAHORE: The PTI chairman and over 900 other party leaders and activists nominated in the May 9 cases have been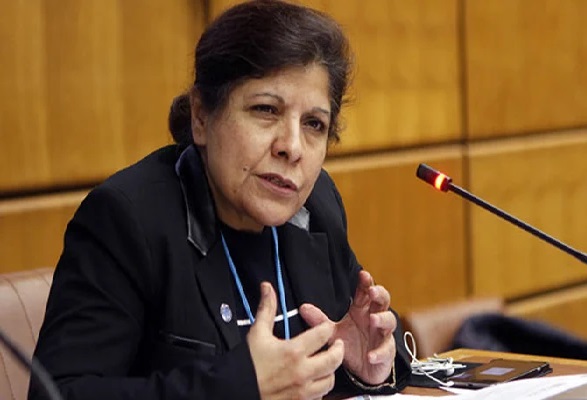 ISLAMABAD: Pakistan is seeking around $11bn in bilateral support from China and Saudi Arabia as the caretakers push