Despite 87% reduction in deaths from corona, there is no room for negligence, says Dr Zafar Mirza
ISLAMABAD: Special Assistant to the Prime Minister for Health Dr. Zafar Mirza has said that the number of deaths due to corona virus has decreased by 87% in Pakistan, however, there is still no room for negligence.

In a statement released on the social networking site Twitter, he said, "Alhamdulillah, today Pakistan has recorded the lowest number of deaths from COD-19 in the last three months."
In his tweet on Monday, he said that 20 deaths had been reported in the last 24 hours as compared to 153 deaths on June 20, meaning that the death toll from the corona virus had dropped by 87 per cent. "There is still no room for complacency," he said.

It may be recalled that the day before yesterday, Dr Zafar Mirza had given good news to Qaumi that the number of corona cases in Pakistan has decreased by 80%. During a press conference, he told the media that the situation regarding Corona was improving. At the international level, the reduction in corona cases in Pakistan is also being acknowledged.
He said that the estimates of international organizations in Pakistan remained stagnant, out of 273,000 diagnosed patients, 237,000 recovered.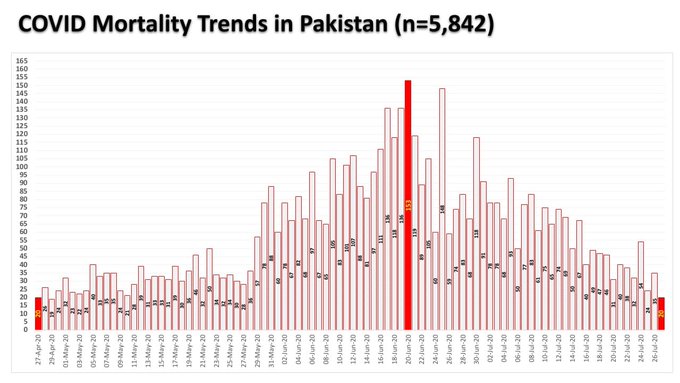 Zafar Mirza said that Pakistan now faces two major challenges on Eid and Muharram. 
The Special Health Assistant said that corona cases in Pakistan could increase again we precuations not taken ad ignored social distance on Eid-ul-Azha
You May Also Like
GENEVA: World Health Organization (WHO) says it
ISLAMABAD: National Command and Operation Center (NCOC) at its
The US Department of Treasury's watchdog,